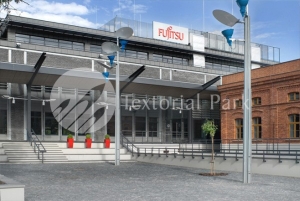 Office spaces of the highest international standard and tax relief for business operation. City center. The center of Poland. This is the shortest description of Textorial Park, the most modern business center in Łódź and the first Class A office building. Textorial Park was established in January 2009, and comprises of a group of three independent class A office buildings, connected by a glazed atrium, with the office space of over 12,700 m2 . The main part of the complex is the revitalized cotton warehouse dated around 1890, creating a unique combination of nineteenth-century industrial architecture and modern style of building development. Furthermore, it includes : air conditioning, monitoring, fiber optics, three independent telecommunications operators, a parking lot with 237 spaces, restaurants, and a unique neighborhood of renovated nineteenth century houses and factories from the heyday of the so-called Promised Land.
The complex is located in the city center, between the main arteries of Łódź – al. Pilsudskiego, ul. Rydza – Śmigłego and ul. Kilińskiego – but away from the hustle and bustle and with a view of the picturesque Źródliska Park. Close to 1,200 people find work at 12,000 square meters of office area. The center offers the possibility to arrange offices according to individual taste. Depending on your needs, it can be either an open space type area or exclusive, separate offices. All our surfaces have a high standard finishing and include numerous relaxation spaces. We offer a variety of premises for lease ranging from 40 m2 to 400 m2 . There is also a possibility to expand the area by connecting modules.
The area of the center has the status of Special Economic Zone, enabling the use of tax relief.
Textorial Park has a 24-hour fire monitoring, and a specialized security staff equipped with a modern surveillance system ensures safety.

Offices on 1st Floor (Part A)

Offices on 1st Floor (Part B)