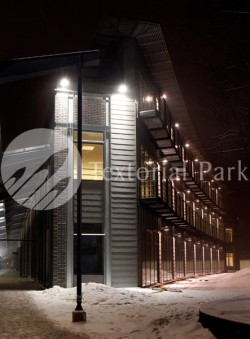 Textorial Park, established in January 2009, is a stylish complex of three class A office buildings, connected by a glazed atrium, with an office area of over 12,000 m2 and 240 parking spaces (underground and external parking lots).
The center is a unique combination of the nineteenth-century industrial architecture and a modern building development style. The investment is located between the main arteries of Łódź: al. Piłsudskiego, ul. Śmigłego-Rydza and ul. Kilińskiego. The location is a guarantee of perfect transport connection (line 15 of public transport).
When deciding to rent a space in our center, you will receive an individual arrangement project for the premises. Depending on your needs, it can be either an open space type area or exclusive, separate offices.
Your employees and guests can use the restaurants and the well-equipped conference center. We provide high quality audio-visual equipment, catering, organization and technical service of all conferences and meetings.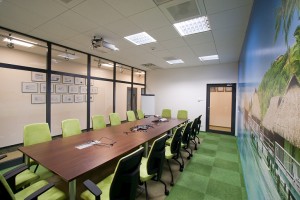 You can relax in the glazed atrium, outdoor patio, or a number of terraces with a scenic view of the oldest park in Łódź – Źródliska. Textorial Park is also friendly to people with disabilities.
The area of the center has the status of Special Economic Zone, enabling the use of tax relief, and also has the BREEAM ecological certificate.
Textorial Park has a 24-hour fire monitoring, and a specialized security staff equipped with a modern surveillance system ensures safety.